We have another astronomy-packed carnival for you this week. What is the Carnival of Space, you ask? COS is the source for the lat­est space news from var­i­ous blogs from the past week. Want to catch up or read back posts on COS? Our gracious host, Uni­ver­se­To­day, has the entire archive. If you have a space-related blog and you want a lit­tle expo­sure, con­sider con­tribut­ing to the Car­ni­val of Space. Just email your post to carnivalofspace@gmail.com and the cur­rent week's host will add a link. If you feel really ambi­tious and want to help, send an email to the above email and sign up as a host. We'd love to have you either way.
And now, on to the 254th go-round of the Carnival of Space.
Cheap Astronomy finds that there is more to humanity than economic mismanagement and bad TV shows.
EarthSky.org shows us how to plan your New Year's celebrations on Mercury and Venus. The astronomy-word-of-the-week is "sidereal".
This post from Amy Shiral Teitel of Vintage Spacewas my favorite of the week. During his second walk on the lunar surface, Apollo 12 lunar module pilot Al Bean didn't notice the prank mission support staff left in his write cuff. It might have been due to the pinup girl on the facing page.
Voyager 1, 35 years old and more than 11 billion miles from home, is about to break through by crossing the outermost boundaries of our solar system into interstellar space according to NASA's Jet Propulsion Laboratory. UniverseToday's Jason Major has all the details.
We love having space mission blogs as part of the Carnival (hear that mission EPOs?) Chandra X-ray Observatory talks about how the mission pictures the origin of a press release, browsing large images, and discovering new things.
Speaking of browsing large images, StarryCritters (this website), allows you to zoom deep and explore a chance alignment of two galaxies that appear to be merging although they are separated by millions of light-years.
Ever wonder why all the sky guides say to view meteor showers after midnight? Ray Sanders at Dear Astronomer offers some insights as to why.
NASA put together an animation of the Moon's formation and history. Astronomer Stuart Robbins of Cosmoquest explains what you are seeing!
Ever have a moment of science that changed your life? Nicole, of Cosmoquest, explains how real-life science interactions can make an impact on kids.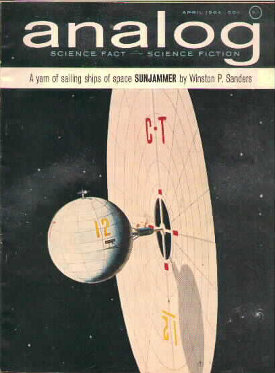 Science fiction creates some pretty cool astronomical scenarios. Many of these authors draw on actual science for their ideas. Centauri Dreams, inspired by thoughts of Ray Bradbury, looks at how science fiction has treated the solar sail, and SF's relationship with the scientific studies that followed.
Supernova Condensate goes all sci-fi and ponders the movie "Pitch Black" and planets in triple star systems.
Venus has been getting much attention the past few weeks. Another celestial event, Venus occulation is coming. The moon will hide Venus for about an hour. See a report at The Venus Transit of a previous Venus occulation at the Venus Transit site.
In a post from Next Big Future, ESO (European Southern Observatory) is to build the largest optical/infrared telescope in the world. At its meeting in Garching, the ESO Council approved the European Extremely Large Telescope (E-ELT) Programme, pending confirmation of four so-called ad referendum votes. The E-ELT will start operations early in the next decade. The E-ELT will collect 100 million times more light than the human eye and 8 million times more the telescope that Galileo used. It will have one thousand mirror segments that will be 40meters across in total and the project will cost 1.08 billion euros (about US1.35 billion).
NASA's Nuclear Spectroscopic Telescope Array (NuSTAR) launched into the morning skies over the central Pacific Ocean at 9 a.m. PDT (noon EDT) June 13, 2012, beginning its mission to unveil secrets of buried black holes and other exotic objects.
Recently, NASA's Wide-field Infrared Survey Explorer, or WISE, has been turning up a new crowd of stars close to home: the coldest of the brown dwarf family of "failed" stars. WISE has a surprise in store: there are far fewer brown dwarfs around us than predicted. "This is a really illuminating result," said Davy Kirkpatrick of the WISE science team at NASA's Infrared Processing and Analysis Center at the California Institute of Technology in Pasadena. "Now that we're finally seeing the solar neighborhood with keener, infrared vision, the little guys aren't as prevalent as we once thought." Previous estimates had predicted as many brown dwarfs as typical stars, but the new initial tally from WISE shows just one brown dwarf for every six stars. It's the cosmic equivalent to finally being able to see down a mysterious, gated block and finding only a few homes.
Read Links Through Space journey to capture the Transit of Venus. Astronomy Club Toutatis visit Enontekiö, Lappland to photograph the event and enjoy the last transit of Venus of our life time.
Astroblogger posts an awesome animation of Near Earth Asteroid 2012 LZ1 zipping past a galaxy and a planetary nebula.
Newcomer to the Carnival, Silver Rockets, brings us an amazing image of ink black Thackeray Globules against the golden nebula of IC 2944 from the National Optical Astronomy Observatory.
Like something you see? Share the word and help out astronomy by retweeting, or sharing on Google+, Reddit, Tumblr, Pinterest, Stumbleupon and Facebook. One of the best ways to stay up on the latest space news is to follow @universetoday and these other contributors on Twitter.