Carnival of Space #254
18 June 2012
Last Updated on 18 June 2012
We have another astronomy-packed car­ni­val for you this week. What is the Car­ni­val of Space, you ask? COS is the source for the lat­est space news from var­i­ous blogs from the past week. Want to catch up or read back posts on COS? Our gra­cious host, Uni­ver­se­To­day, has the entire archive. If you have a space-related blog and you want a lit­tle expo­sure, con­sider con­tribut­ing to the Car­ni­val of Space. Just email your post to carnivalofspace@gmail.com and the cur­rent week's host will add a link. If you feel really ambi­tious and want to help, send an email to the above email and sign up as a host. We'd love to have you either way.
And now, on to the 254th go-round of the Car­ni­val of Space.
Cheap Astron­omy finds that there is more to human­ity than eco­nomic mis­man­age­ment and bad TV shows.
EarthSky.org shows us how to plan your New Year's cel­e­bra­tions on Mer­cury and Venus. The astronomy-word-of-the-week is "sidereal".
This post from Amy Shi­ral Tei­tel of Vin­tage Spacewas my favorite of the week. Dur­ing his sec­ond walk on the lunar sur­face, Apollo 12 lunar mod­ule pilot Al Bean didn't notice the prank mis­sion sup­port staff left in his write cuff. It might have been due to the pinup girl on the fac­ing page.
Voy­ager 1, 35 years old and more than 11 bil­lion miles from home, is about to break through by cross­ing the out­er­most bound­aries of our solar sys­tem into inter­stel­lar space accord­ing to NASA's Jet Propul­sion Lab­o­ra­tory. UniverseToday's Jason Major has all the details.
We love hav­ing space mis­sion blogs as part of the Car­ni­val (hear that mis­sion EPOs?) Chan­dra X-ray Obser­va­tory talks about how the mis­sion pic­tures the ori­gin of a press release, brows­ing large images, and dis­cov­er­ing new things.
Speak­ing of brows­ing large images, Star­ryCrit­ters (this web­site), allows you to zoom deep and explore a chance align­ment of two galax­ies that appear to be merg­ing although they are sep­a­rated by mil­lions of light-years.
Ever won­der why all the sky guides say to view meteor show­ers after mid­night? Ray Sanders at Dear Astronomer offers some insights as to why.
NASA put together an ani­ma­tion of the Moon's for­ma­tion and his­tory. Astronomer Stu­art Rob­bins of Cos­mo­quest explains what you are seeing!
Ever have a moment of sci­ence that changed your life? Nicole, of Cos­mo­quest, explains how real-life sci­ence inter­ac­tions can make an impact on kids.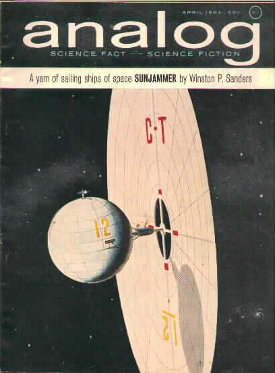 Sci­ence fic­tion cre­ates some pretty cool astro­nom­i­cal sce­nar­ios. Many of these authors draw on actual sci­ence for their ideas. Cen­tauri Dreams, inspired by thoughts of Ray Brad­bury, looks at how sci­ence fic­tion has treated the solar sail, and SF's rela­tion­ship with the sci­en­tific stud­ies that fol­lowed.
Super­nova Con­den­sate goes all sci-fi and pon­ders the movie "Pitch Black" and plan­ets in triple star systems.
Venus has been get­ting much atten­tion the past few weeks. Another celes­tial event, Venus occu­la­tion is com­ing. The moon will hide Venus for about an hour. See a report at The Venus Tran­sit of a pre­vi­ous Venus occu­la­tion at the Venus Tran­sit site.
In a post from Next Big Future, ESO (Euro­pean South­ern Obser­va­tory) is to build the largest optical/infrared tele­scope in the world. At its meet­ing in Garch­ing, the ESO Coun­cil approved the Euro­pean Extremely Large Tele­scope (E-ELT) Pro­gramme, pend­ing con­fir­ma­tion of four so-called ad ref­er­en­dum votes. The E-ELT will start oper­a­tions early in the next decade. The E-ELT will col­lect 100 mil­lion times more light than the human eye and 8 mil­lion times more the tele­scope that Galileo used. It will have one thou­sand mir­ror seg­ments that will be 40meters across in total and the project will cost 1.08 bil­lion euros (about US1.35 billion).
NASA's Nuclear Spec­tro­scopic Tele­scope Array (NuS­TAR) launched into the morn­ing skies over the cen­tral Pacific Ocean at 9 a.m. PDT (noon EDT) June 13, 2012, begin­ning its mis­sion to unveil secrets of buried black holes and other exotic objects.
Recently, NASA's Wide-field Infrared Sur­vey Explorer, or WISE, has been turn­ing up a new crowd of stars close to home: the cold­est of the brown dwarf fam­ily of "failed" stars. WISE has a sur­prise in store: there are far fewer brown dwarfs around us than pre­dicted. "This is a really illu­mi­nat­ing result," said Davy Kirk­patrick of the WISE sci­ence team at NASA's Infrared Pro­cess­ing and Analy­sis Cen­ter at the Cal­i­for­nia Insti­tute of Tech­nol­ogy in Pasadena. "Now that we're finally see­ing the solar neigh­bor­hood with keener, infrared vision, the lit­tle guys aren't as preva­lent as we once thought." Pre­vi­ous esti­mates had pre­dicted as many brown dwarfs as typ­i­cal stars, but the new ini­tial tally from WISE shows just one brown dwarf for every six stars. It's the cos­mic equiv­a­lent to finally being able to see down a mys­te­ri­ous, gated block and find­ing only a few homes.
Read Links Through Space jour­ney to cap­ture the Tran­sit of Venus. Astron­omy Club Tou­tatis visit Enon­tekiö, Lap­p­land to pho­to­graph the event and enjoy the last tran­sit of Venus of our life time.
Astroblog­ger posts an awe­some ani­ma­tion of Near Earth Aster­oid 2012 LZ1 zip­ping past a galaxy and a plan­e­tary nebula.
New­comer to the Car­ni­val, Sil­ver Rock­ets, brings us an amaz­ing image of ink black Thack­eray Glob­ules against the golden neb­ula of IC 2944 from the National Opti­cal Astron­omy Observatory.
Like some­thing you see? Share the word and help out astron­omy by retweet­ing, or shar­ing on Google+, Red­dit, Tum­blr, Pin­ter­est, Stum­ble­upon and Face­book. One of the best ways to stay up on the lat­est space news is to fol­low @universetoday and these other con­trib­u­tors on Twitter.